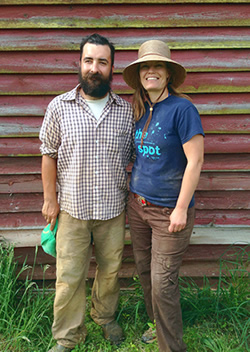 THE FARMERS
David and Briana Benjamin are excited to live out their dream of small-scale farming in Hillsborough, NC! Their passion for fresh grown vegetables and farm life comes from very different beginnings. David was born and raised in Indiana and spent nearly ten years as a cook and sous chef in Florida, Oregon, and North Carolina. He left the kitchen to study horticulture and graduated with honors from Oregon State University with a degree in sustainable and ecological horticulture. Briana grew up in the foothills of the Cascade Mountains in Eastern Washington where she grew to love the rural life and dreamed of someday owning a farm. She spent over eleven years working in youth ministry as the director of a drop-in center for Seattle Area Youth for Christ. 
David and Briana left Washington State in search of a place they would together call home. They are very happy to have found that place in Hillsborough and have long-term plans of combining farming with ministry. They acknowledge that they can tend the ground and plant the seeds, but it is God who makes them grow!


FARMING PRACTICES
Vera Luce Farm has one goal, to grow the best tasting vegetables as naturally as possible. We use only organic approved inputs as we tend the land, choosing not to certify at this time. Our practices include reduced tillage, water conservation, and limiting of single use plastics. We are passionate about small-scale farming and invite any questions you might have about our methods or inputs. 

ITALIAN AND SOUTHERN EUROPEAN INSPIRED VEGETABLES
Vera Luce Farm is setting out to bring Triangle chefs flavor rich produce with a story. Years of eating, studying, and dreaming brought our farm to fruition. True seasonal menus are our target and we want to forge relationships with the chefs that create them. We are passionate about vegetables that evoke the senses and flavors that come with them. We love the leafy bitters. crunchy sweets, and all those amazing tastes somewhere in between!